---
Grey Color Kitchen Cabinet
Grey cabinets are a popular choice for homeowners who want a timeless and versatile look in their kitchen. But with so many different shades of grey to choose from, it can be tough to decide which one is right for your home. If you're looking for the best grey cabinets on the market, look no further than HM Cabinets. Our cabinets are made from high-quality materials and come in a variety of grey shades to suit any style. Plus, our cabinets are backed by a lifetime warranty, so you can be sure they'll last for years to come.
A lot of homeowners feel that an all-white kitchen is something they need but we would like to tell you that experimenting with a grey palette can be as interesting and provide a fresh breath of air to your kitchen. The Grey color is a beautiful balance of neutral and warm tones. Having it on kitchen cabinets also contributes in the brightness and a sense of cleanliness in the kitchen.
---
HM Cabinet
Why Choose Grey Color For Your Kitchen Cabinets?
Well till now you might only know about grey color but when it comes time to start comparing swatches there are so many numbers of options in gray paint that it can become overwhelming for you. Each shade of grey is different from another and gives a special feeling to your kitchen cabinets.
One of the best ways to choose the right color for your kitchen cabinet is by considering the size of the kitchen and the lights available in it.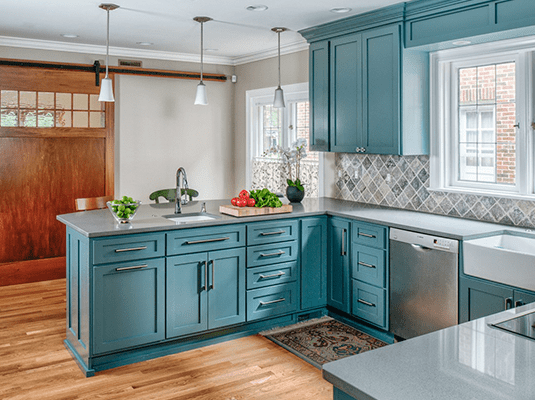 With the help of the right shade of grey, you can create an illusion of a grander space if you are kitchen is small in area. Whereas a much larger kitchen with an ample amount of natural light can easily handle the darker grey paint and make it feel homier.
Also, it is often thought of as a neutral color but it might also have warm or cool undertones. Cool grey is when it has pink and bluish hues. Being sure of these undertones is very important because it overall impacts the color scheme or palette.
---
What Are The Different Ways To Style Grey Kitchen Cabinets?
Grey kitchen cabinets can be a great addition to your kitchen as it is modern as well as versatile. So let's see how you can style grey kitchen cabinets- White subway tiles have always been famous as they are used as black splash and you can easily incorporate grey cabinets. You can use a repose grey for a more subtle look. Or if you want to go for a more dramatic look then gauntlet grey will remain good.
If you are looking for a more dramatic look then you can easily try a dark grey. But make sure that your kitchen is large in the area because dark grey makes the look room smaller.
Dark grey cabinets are always favored with either white or light brown countertops and light-colored walls and backsplashes.
You can simply add a pop of gray just by painting the cabinets on the kitchen islands. This is one of the best ways to test drive the color without committing all at once.
---
HM Cabinets- Best Grey Color Cabinets NJ
It is no secret that grey cabinets are all the rage in the world of kitchen design. Not only do they provide a sleek and stylish look, but they are also incredibly versatile, matching well with a variety of different design styles. If you are considering grey cabinets for your kitchen, you will want to check out HM Cabinets. HM Cabinets is a leading provider of high-quality kitchen cabinets, and our grey cabinets are some of the best on the market.