---
Dark Color Kitchen Cabinet
The HM Cabinet has long been considered one of the best sellers of dark color cabinets on the market. With its sleek design and superior craftsmanship, it's no wonder why so many people have chosen to invest in dark cabinets. Although there are a lot of people who feel these dark cabinets are outdated or were just relevant during the 1900s and are simply out of style these days, let us tell you dark colored cabinets are still beneficial and still in the game!
Let's look at some of the benefits of installing dark-colored cabinets.
---
HM Cabinet
Buy Dark Color Cabinets New Jersey
Most people, with their busy schedules and a lot of tasks on hand, don't want to add to the list of cleaning. And this is where dark-colored cabinets come as a boon as they do not have to clean that much because dark-colored cabinets can conceal the daily wear and tear of the cabinets easily.
If you want to create a natural focal point in the kitchen then dark-colored cabinets are the one for you. You can easily bring color with the lighting and decor to give your kitchen a unique style!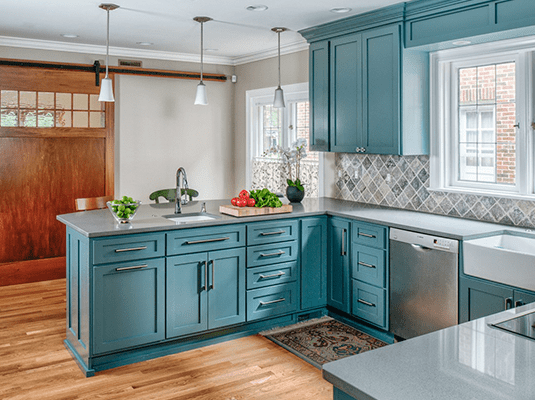 Dark kitchen cabinets are a good combination of black and dark grey that gives the kitchen a welcoming and relaxing atmosphere.
If you have a good amount of space in the kitchen, then installing light-colored cabinets can become dull and institutional.
On such occasions installing dark cabinets will remain beneficial for you as they will warm up the room, and also allows the homeowner to showcase different kitchen appliances.
And with a wide variety of options available with us, you can easily select the perfect dark kitchen cabinets for you! So why wait? Just visit our website and feel free to check out the range of options!