---
Blue Color Cabinets New Jersey
If you want to make the color pop, then the best you can do is pair our blue cabinets with a complementary counterpart like an orange that will work like wonder and magic! You can help by choosing subtle shades such as navy mixed with orange undertones of leather and turning the look of the kitchen 360 degrees!
There are so many options available for you to choose from HM cabinetry blue colors cabinets that there are countless ways by which you can easily pair them! So why wait? And if you are still feeling clueless about how to style it in your kitchen then simply book us now and are professionals are here to help!
---
HM Cabinet
Blue Color Kitchen Cabinet
If the kitchen cabinet door style is the heart of your kitchen then the cabinet color is the soul of it. One of the most preferred kitchen cabinet colors is blue. The blue color is famous because it offers calmness and poise in your kitchen. Psychologically blue color is associated with calmness, serenity, and stability. It becomes a perfect reason to choose a blue color for your kitchen cabinet. There are four ways by which you can use blue cabinets in your kitchen.
There are so many shades of blue that it becomes difficult to style the right one in your kitchen. Well, one of the easiest ways is to incorporate different shades of blue together. If you have light periwinkle paint in your kitchen then try to opt for dark kitchen cabinets. If you feel that all blue is too overwhelming for you then you can opt for much more neutral colors and a blue accent wall.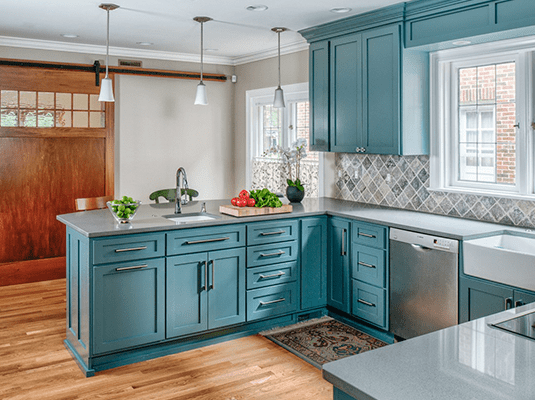 If you are feeling that all too blue will become too much for you then to avoid this feeling you can choose to opt for blue color in your lower cabinets. It will help you to keep things lighter up top or even opt for open shelving.
Mixing black and blue both can seem a bit dark for you but when you have enough white space to lift both the colors you will never feel too bogged down. Some additions like white ceilings, and marble countertops are some of the accessories that will help in making your space continuous and lifted.